iOS and Android "Overland Bound One" Mobile App
The best community, resource, and travel app for adventurers. App provides full access to the Resource Map and Overland Rally Point features.

Resource Map
Thousands of overland specific points of interest such as water, wifi, off-grid campsites, medical, trails, member locations, and events available at a glance.

Overland Rally Point
Create trips and events with details specific to overlanders, whether it is a week long trek into the wilderness, virtual online meetup, or a reoccurring local get together or training event.

Member Deals & Gear Discounts
Exclusive members-only pricing on gear available when logged into our store.
• Map points of interest and locations
• Access to our ad free community forums
• Tools to organize Overland Trips and Meetups
• On and Off-road navigation
• Trail recording features
• Download and share GPX tracks
• Offline mode
• Premium map layers
• Download offline map layers
The pillars that guide us
We ask those joining to uphold our core values to the best of their ability. These principles include leaving trails and campsites better than you found them, sharing resources and information freely with others, engaging in even the smallest of interactions, and being respectful to each other.
You can read more about our core principles here.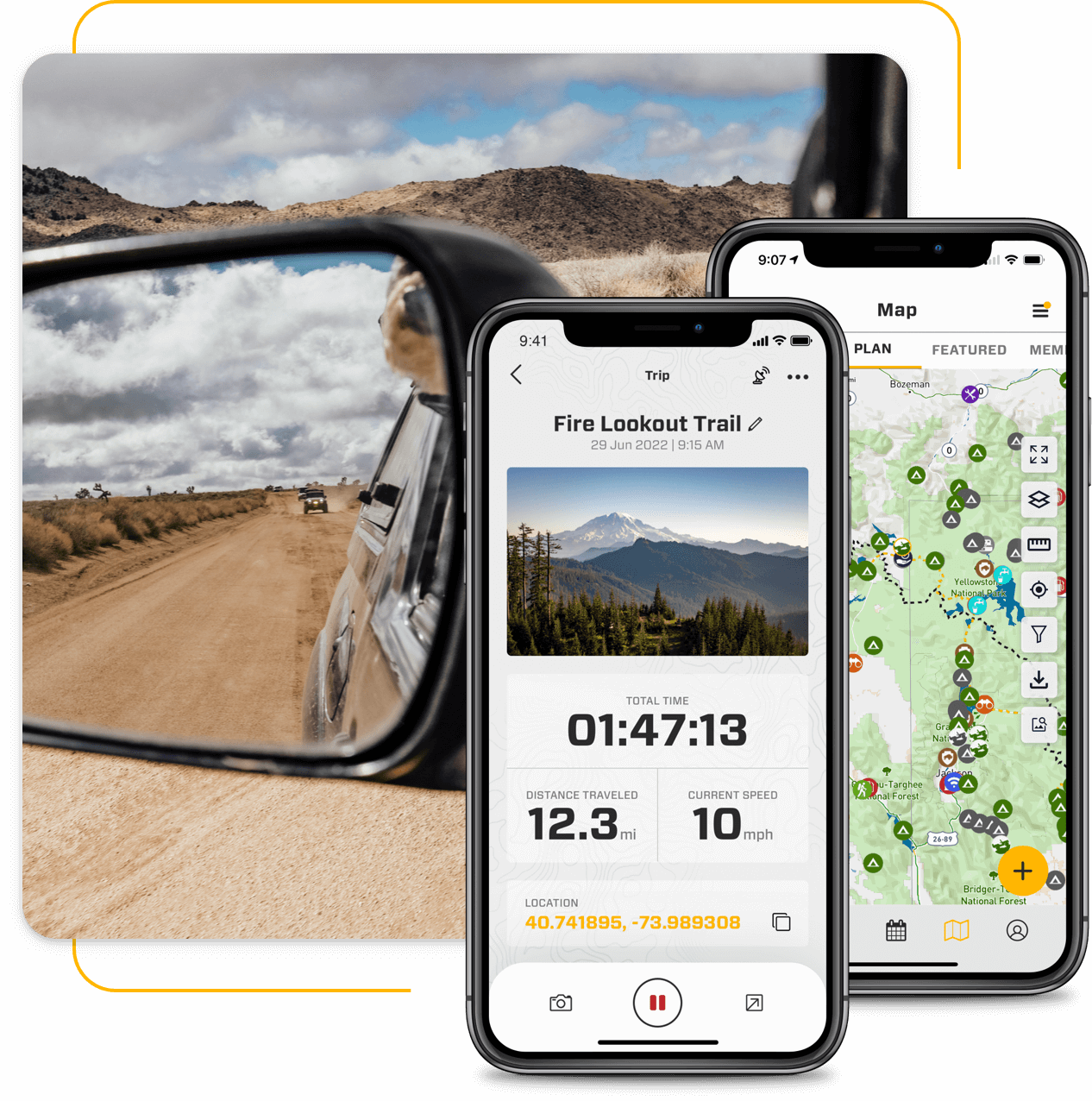 Members have full access to Overland Bound One.
The essential app for overland adventure, Overland Bound One provides trails, resources, community support, and trip planning tools for those seeking adventure.
Available for both iOS and Android.
Overlanding is when vehicle dependent travel meets the call of the wild. The main idea behind it is to equip your vehicle with everything you need to be self-reliant while exploring. The exploration can take you down dirt roads or across continents, and it has the power to change the way you think about travel.
Overland Bound was created for every stage of the overland journey. You will find our global community is knowledgeable and helpful, and our members represent a wide range of skill level and experience. 
We combine this inclusivity and support by building social functionality into every feature we create for Overland Bound One. As a member, you benefit from the ability to connect with others locally in addition to mapping and navigation* tools.
*Navigation requires an Expedition Membership
No. It doesn't matter what you drive. We are an activity focused organization vs a vehicle specific organization.  
It does, however, matter where you drive it, and that's one of the reasons why we embed social functionality into all of our features. We make it easy to know before you go.
Everyone starts somewhere and everyone is welcome here. Many of our community members are in the beginning stages of their overland journey, and we're here to help. We strive to create an inclusive environment and develop simple tools to help people get started - no matter their skill level or expertise.
You may also like
Check out our collection of member only gear. If you see it on the trail, you've found a friend.
OVERLAND BOUND ONE
Get the most from your membership
The essential app for overland adventure, Overland Bound One provides trails, resources, community support, and trip planning tools for those seeking adventure.

Download the app and login to access everything* Overland Bound has to offer. Available for both iOS and Android.
*Please note, some features are only available for those who have purchased an Overland Bound Membership